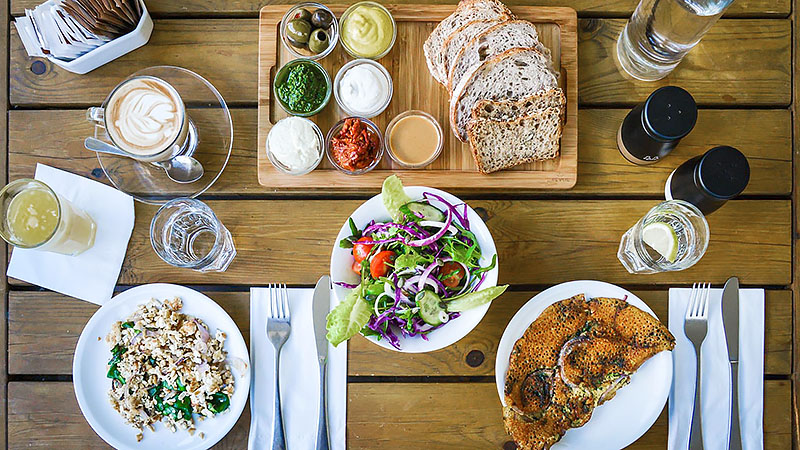 If you're a vegan, you're probably no stranger to being asked: "But, what do you eat?" Insert eye roll here. Despite popular belief, vegans do not survive only on kale, lettuce and Oreos. In fact, Melbourne is blessed with a thriving vegan restaurant and cafe scene that rivals any "normal" restaurant the city has on offer. From plant established veggie bars to mock meat specialists, Melbourne has a really dedicated choice of 'to die for' (however nobody needed to) eating options for vegans. So if you are a flexitarian, hardcore vegan, or even just a bit more health conscious, we've rounded up the best vegan restaurants Melbourne has to offer.
2. Matcha Mylkbar
This health-conscious cafe should send its rivals green with jealousy, serving up tasty emerald goodies. Not only does Matcha Mylkbar boast vivid green matcha lattes and a selection of yummy smoothies, but in addition, it has an extensive menu. With their unconventional vegan poached 'egg,' soy chicken burger and creamy pumpkin gnocchi, your non-vegan mates will be itchy to try it. They also house a dreamy range of vegan-friendly slices and sweet treats.
Location: 72A Acland St, St Kilda, Melbourne
Website:
3. Yong Green Food
Another favourite vegan restaurant in the heart of Fitzroy, Yong Green Food, specialises in producing organic, largely raw dishes from restaurants all over the world. They are also more than happy to cater to any dietary needs and food intolerances. Their extensive raw menu incorporates raw nachos, a nutty hamburger, and also the incredibly advanced 'rawsagne.' They also provide a selection of yummy desserts like pecan pie, cheesecake and carrot cake.
Location: 421 Brunswick St, Fitzroy, Melbourne
Site: 
4. Sister of Soul
Nestled away from the bayside area of St Kilda is beach vegan eatery, Sister of Soul. This beautiful vegan and vegetarian cafe offer all-day breakfast in addition to a tasty selection of dinner and lunch meals. Our favorites include their delicious deep fried eggplant, tempeh massaman curry  along with large vegan breakfast. But, that is not all. They also offer you some seriously sweet goodies such as their distinctive version of rugged street complete with their housemade marshmallow.
Location: 73 Acland St, St Kilda, Melbourne
Website:
5. Serotonin Eatery
Burnley's hidden treasure, Serotonin Eatery offers plenty of yummy vegetarian choices, including sweet treats and sweet dishes. The always-smiling personnel are always prepared to accommodate any dietary requirements and help you choose! With offerings such as the likes of this Smiling Smashed Avo and Green Protein Bowl, they know that the challenge. You can also enjoy a cheeky peanut butter or ginger latte while you eat.
Location: 52 Madden Grove, Burnley, Melbourne
Site:
6. Transformer
Transformer is Vegie Bar's bigger sister that is older and age but, also and thankfully, larger in size. It boasts a totally vegetarian menu with classic ingredients such as roast cauliflower and broiled king oyster mushrooms. There's also a huge selection of vegetarian options available, but many items on the menu can be changed to accommodate too.
Location: 99 Rose St, Fitzroy, Melbourne
Site: \
7. Red Sparrow Pizza
A vegan pizzeria, what a fantastic world, well city, we are living in. The angels in Red Sparrow Pizza specialise in producing vegan-friendly wood-oven pizzas. The truly surprising and beautiful thing is the pizzas are equally as (vegan) cheesy and delicious as what the non-vegan folk call 'genuine pizza.' They've a vast assortment of entirely vegan-friendly pizza alternatives, which will rival any pizzeria in Melbourne.
Location: 406 Smith St, Collingwood, Melbourne
Site:
8. Trippy Taco
Trippy Taco has established stores in Fitzroy and St Kilda, so they are catering to either side of the town's vegan needs. They're entirely vegetarian, with vegetarian options available for every item on the menu. They provide delicious vegetarian style Mexican food which doesn't compromise on flavour or cheesiness. Favourite dishes include scrambled tofu and soy cheese breakfast burritos, vegan tacos and sweet vegan quesadillas.'
Location: 234 Gertrude St, Fitzroy, Melbourne
Location: 6 Acland St, St Kilda, Melbourne
Website: 
9. Shakahari
Thought to be the most innovative vegan restaurant in Melbourne, Shakahari was catering to the vegan needs of Carlton locals since 1972. Fusing traditional Indian and Japanese dishes with vegan cuisine, they offer an extensive selection of flavour-filled eats. Including a tasty laksa and an assortment of other hot curries. We love the bite-sized fried avocado wedges along with also the krub phom dumplings packed with sweet corn, mushroom, walnuts and pumpkin.
Location: 201-203 Faraday St, Carlton, Melbourne
Website:
10. Smith and Daughters
Mo Wyse and chef Shannon Martinez, the brains behind Smith and Daughters are indeed pioneers of Melbourne's vegetarian food culture. Fitzroy's first all-vegan Latino restaurant, Smith and Daughters, opened two decades back and has since become a booming success. This is in no small amount due to Martine who functions a few of the most real-tasting imitation meat in the city. His soy, mushroom, wheat protein and plant root creations, such as the chipotle chicken burger or the garlic prawns, taste just like the real thing.
Location: 175 Brunswick St, Fitzroy, Melbourne
Site: 
11. Neko Neko
Fitzroy really is the vegan funding of Melbourne, boasting the most extensive selection of green eateries in the city. However, Neko Neko isn't only another cruelty-free cafe to catch a snack at in Fitzroy. It is a Japanese restaurant offering vegan-friendly Raman. Finally, all the veggies fans out there may partake from the deliciousness that is Ramen noodle soups. Neko Neko, which stands for cat cat, offers a hearty choice of soups filled with mushrooms and their particular egg-free noodles. They also offer a vegan Okonomiyaki which switches out the conventional eggs to get cashews cream. Genius.
Location: 83A Smith St, Fitzroy, Melbourne
Website:
12. Loving Hut Melbourne
Situated in Richmond, Loving Hut actually has over 200 franchises worldwide. And with its well priced and enormous range of delicious vegan bites, it's not difficult to see why. It's a pan-Asain style restaurant that specialises in mock meats. Favourite imitation meat treats comprised 'ham' sushi and fried 'prawns' and Southern-fried 'chicken' If you love what you taste, and we guarantee you will, they even offer a grocery store section. As a consequence, you can stock up on your favorite mock meaty treat along with other vegetarian ingredients.
Location: 10/242 Victoria St, Richmond, Melbourne
Website: 
13. Moroccan Soup Bar
What's especially cool and original concerning Moroccan Soup Bar is your menu that is spoken. This means, there's absolutely no set menu and the selection changes daily. You may only order what's being ready for this day. But, rest assured you will have plenty to choose from. Generally, the offering includes large plates of dips and curried vegetables paired with a massive stack of pita bread. For just $17 you can treat yourself and your mates into a shared three-course meal, or for even just $20, you can go for the banquet.
Location: 183 St Georges Rd, Fitzroy, Melbourne
Website:
14. Mama Rumaan
Docklands restaurant, Mama Rumaan provides up vegan-friendly Middle Eastern cuisine. Yes, that's correct, this isn't a drill. Vegan-friendly Middle Eastern cuisine is a thing, and invite the gods of food. It has all the fragrant, herby and spicy deliciousness that you may count on from traditional Middle Eastern food. Our fave is Mama's Old Spice Rice which is full of legumes, slivered almonds, sultanas and potato. But we love the Roast Pumpkin Bourani served with sumac, yoghurt dressing and mint.
Location: t10/161 Harbour Esplanade, Docklands, Melbourne
Site:
15. Billy and Lucy Botanic
Opening their doors just March this year, Billy and Lucy have made their mark on the Melbourne vegan scene. Owned and operated by two passionate vegans, everything they sell is entirely organic and created from scratch, right down to the butter and Vegemite. Our favourite dishes comprise the sweet potato gnocchi with thyme and cauliflower puree, and also the buckwheat crepes with hazelnut sauce, hazelnut praline and poached pear.
Location: 350 Nicholson St, Fitzroy, Melbourne
Site: