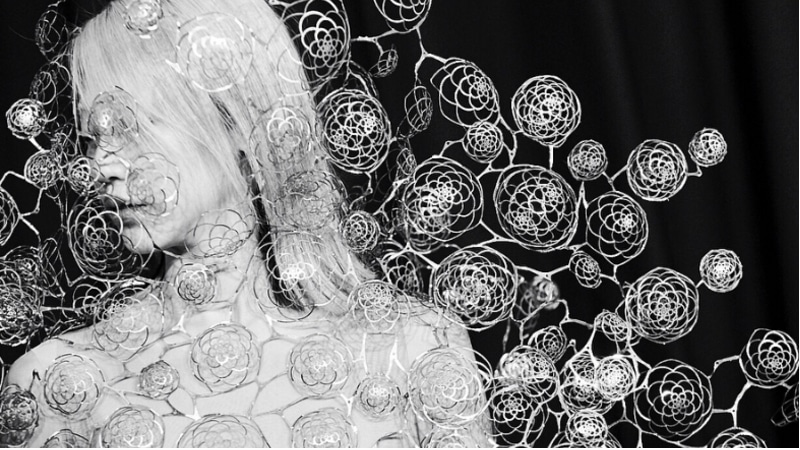 From the luxury hotel suites designed by Karl Lagerfeld to Iris Van Herpen's submerged musicians, these are the top global fashion news stories of the week.
Iris Van Herpen's 10th Anniversary Features Underwater Musicians, Swarovski Crystals and Björk
Iris Van Herpen is famous for her avant-garde designs and awe-inspiring runways. For her Spring Summer 2016 show, the designer programmed robotic arms to 3D print, laser cut and weave a dress onto a model live on point. Now, for her brand's tenth anniversary Couture Fall 17, it seems Van Herpen might have surpassed even that unforgettable performance. The first event took the form of her latest runway show, which introduced aquatic-themed couture. This season, although the stunning clothes defied reality and what's possible with clothing, they weren't the only thing catching the audience's eyes. Producing the melodic music that followed the show were a set of musicians submerged completely submerged in giant, glass tanks. As the actors sung and played with peculiar custom made tools underwater, they reflected the surreal, otherworldly allure of Van Herpen's designs.
After this, a cocktail party was held to exhibit Iris's crystal designs for luxury jeweller Swarovski. As celebrities took over the skies, guests made their way to a club for the final afterparty occasion. Appearing at a mysterious beaded mask, Icelandic singer and songwriter Björk created a captivating performance. Looking ahead into the next decade, Van Herpen shared her hopes to "continue combining different worlds into vogue." With technology rapidly evolving, it's very likely  that this talented designer will continue to create the impossible possible.
#irisvanherpen #aeriform Behind the scenes Photography by @morgan_odonovan Model @soojmooj Styling: @patti_wilson Casting: Maida Boina & @maximevalentini Make-up: Terry Barber | @maccosmetics Pro Team Hair: @martincullen65 | @streetersldn Underwater performance: @betweenmusic. Dk Collaborating artist: Philip Beesley Creative advisers: @jerry_stafford & @sssalvadorrr Press: @karlaotto #parisfashionweek #pfw
Karl Lagerfeld Designs Luxury Suites at the Ancient Hôtel de Crillon
Considering Paris' Place de la Concorde, the Hôtel de Crillon has held a significant place in history. Marie Antoinette took piano lessons. Benjamin Franklin signed the first treaty between the United States and France there. Now, Chanel's iconic creative director, Karl Lagerfeld, has also made his mark on the historical resort. Initially constructed in 1758 as a private home, the palatial place was changed into a lavish hotel in 1909. Over 100 years later, it was determined that the venue was needing a makeover, along with the resort hence closed its doors to renovations. After spending four years, 200 million euros and enlisting the assistance of Mr Lagerfeld, the resort reopened this week.
In case his program was not already packed with organising fashion shows, getting awards, and most recently, reconstructing an Eiffel Tower inside the Grand Palais for Paris couture week, Lagerfeld redesigned two of their hotel's suites. Named, 'Les Grands Appartements', the fourth-floor suites offer views of the citie's renowned landmarks. With no expense spared, they include a dining area, marble bathrooms, and a personal, private butler for your guests. True to style, Karl dedicated among the rooms to somebody near his heart. A package, thus, is titled, 'La Choupette' after his cherished cat.
The day we've been waiting for has finally arrived. We are very happy to welcome you on 10, Place de la Concorde to compose with you this new chapter. #RWjourneys #hoteldecrillon
Paris Celebrates Dior's 70th Anniversary with Retrospective Exhibition
In the midst of Paris Haute Couture week, a fashion house whose name has become synonymous with couture celebrated a milestone anniversary. As Dior turned 70 this week, a new retrospective exhibition opened at Paris' Musée des Arts Décoratifs. Titled, 'Christian Dior: Couturier du Rêve', the exhibition is the biggest ever staged with the museum and features over 300 gowns. Though committed to the fashion house's creator, the display reflects and showcases the creativity of every one of the seven designers who have led Dior over recent years. This, therefore, includes Christian Dior, Yves Saint Laurent, Marc Bohan Gianfranco Ferré, John Galliano, Raf Simons, and current creative director, Maria Grazia Chiuri.
Before his foray into trend, Christian Dior was a manager of an art gallery from 1928 to 1934. The current exhibition includes a selection of paintings and sculptures among the couture gowns. Transporting visitors into the world of Dior, in addition, there are photos, fashion sketches, and letters, in addition to jewelry, bags, shoes and perfume bottles. The gallery spaces exude atmospheres of a art gallery, workshop, a street, boudoir, and a peaceful garden. Moreover, the galleries nave has been changed into a ballroom, in which gowns worn by clients like Princess Grace of Monaco, Lady Diana and Charlize Theron, dance below a ceiling decorated with heavenly figures.
End on a high note — the incredible exhibition covering 70 decades of the house of Dior finishes from the magnificent setting of the royal nave, the towering space transformed into a ballroom to showcase a string of truly sumptuous gowns, with a lot of those glittering creations being seen together for the first time. #DiorArtsDeco
Edward Enninful Adds Four More Famous Faces to his Powerful British Vogue Team
Although he doesn't officially join British Vogue before August 1st, the new editor in chief, Edward Enninful is already wielding his power over the novel. This week, Enninful added four new trend heavyweights to the positions of his group. These included Vogue royalty, Grace Coddington, and supermodels, Naomi Campbell and Kate Moss that will behave as leading editors. Joining this trio is Language award-winning director and performer, Steve McQueen.
The movement follows Enninful's contentious choice to switch out the magazine's longstanding style director, Lucinda Chambers. This role was then awarded to Venetia Scott. Meanwhile, the deputy editor, Emily Sheffield, has announced her resignation amongst this flurry of changes. Enninful has definitely set a new path for the future of this magazine. Clients are now curious to see where it will lead when he starts in August. Regarding the hottest Vogue statements, the new editor in chief has stated that Grace Coddington is "synonymous with the title". Furthermore, he noted that "as among the biggest international style influencers and supermodels, the impact Naomi and Kate have in the present culture is tremendous," while Mcqueen will contribute "an increased thickness to the arts inside the magazine."
GREAT BRITAIN !!! Meet four fresh Contributing Editors for @britishvogue, the iconic Creative Director @therealgracecoddington, Supermodel/Actress/Activist @iamnaomicampbell, Style Icon @katemossagency and Oscar winning Filmmaker/Artist #SteveMcqueen. Some of the most inspirational people I know. I look forward to the magic They'll bring into the pages of #Vogue and Internet xoxo
Model Emily Ratajkowski Co-designs Must-Have Handbag
American model Emily Ratajkowski will tick off fashion designer off her livelihood to do listing after this week's launch of The Kooples' 'Emily' bag. Emily, who is currently also the surface of the brand's Fall series, co-designed the Italian made bag. To celebrate the launch, The Kooples hosted a glamorous cocktail party in the recently renovated Hôtel de Crillon.
Offered in stores from September 1, the bag now comes in black, red, and taupe. A bigger range of colors has been published in the future. Features include gold hardware finishes and a detachable strap. Accessorising like a high model will cost you anywhere from $400 up to $700, depending on which size bag catches your eye.
The Kooples is proud to present Emily Ratajkowski as Emily by The Kooples bag co-designer and muse for our newest collection ✨ #EmilybyTheKooples #EmilyRatajkowski #TheKooples