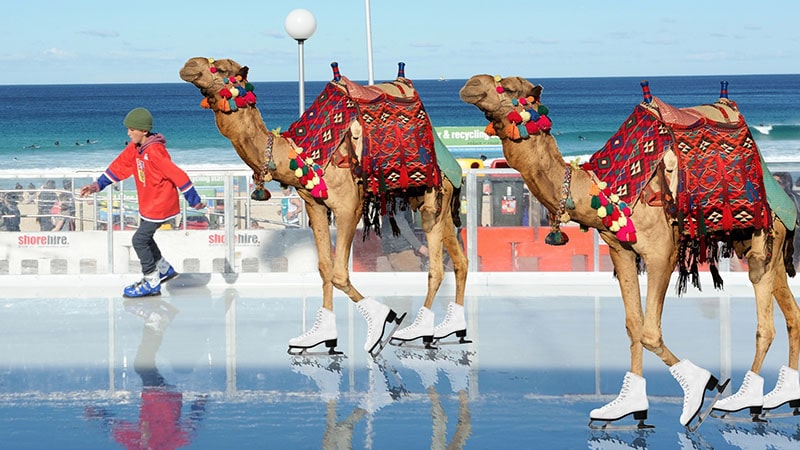 While it might be a bit too chilly to go swimming in Bondi, there are plenty of fun things to do in Sydney at this time of year. From art exhibits and opera performance to pop-up ice hockey rinks and food festivals, town is as lively and bustling in winter as it is summer time. But, before you venture outside to brave the cold weather, it is best to know where you're going. Rather than wasting your time trying to find something to do, go straight to the action on this manual to Sydney's finest events, activities, exhibitions, and festivals. You will forget about bathing in sunlight when you are partaking in these trendy calendar fillers.
You might have already caught the light displays at this year's Vivid Sydney, but have you ever checked out Vivid LIVE? The great event, which is part of this Vivid festival, is a modern music party hosted by the Sydney Opera House.
When: Today — June 17th
Time: See site
Where: Sydney Opera House
Website:
Do yourself a favour this winter and book tickets to watch My Fair Lady. The excellent production is currently enjoying a fantastic show year in Melbourne but will definitely make its way into Sydney in August.
After: Aug. 24th — Sept. 24th
Time: See site
Where: Capitol Theatre
Website:
Jonas Kaufmann, who's known as the greatest tenor of the period, returns to the Sydney Opera House this season. Hear him live because he plays one of the opera industry's most challenging roles in a rare concert performance of Wagner's Parsifal.
After: Aug. 9th — Aug. 14th
Time: See website
Where: Concert Hall, Sydney Opera House
Site:
Looking for something fun to do with the entire family? Head over to Powerhouse Museum and check out the International Exhibition of Sherlock Holmes. Whether you're a fan of these books, movies, TV series or just love solving a mystery, you're sure to have fun at this interesting display.
After: June 2nd — Oct. 8th
Time: 10.00'm — 5.00pm
Where: Powerhouse Museum
Website:
Winter is the perfect time to watch movies, and there are plenty to see at the Sydney Film Festival. In fact, there are an incredible 288 movies in this year's festival program. As you won't have the ability to see all of them, be sure to grab one or two when you've got the opportunity this month.
After: June 7th — June 18th
Time: See site
Where: Various venues across Sydney
Site:
The weather might not be ideal for a day at the shore, but there are plenty of other things to do at Bondi this winter. An ice skating rink, 32-metre top Ferris wheel, and pop up festival called Bondi Feast are merely a few of the wonderful things available when Bondi Winter Magic takes over.
After: See website
Time: See website
Where: Bondi
Site:
Whether you love style, have a fascination with background or are planning a wedding, you're sure to be mesmerized by Love Is…. Australian Wedding Fashion. The exhibition, which occurs in Powerhouse Museum, includes over 50 wedding outfits and accessories from as far back as 1822.
After: Now — Apr. 22nd, 2018
Time: 10.00am — 5.00pm
Where: Powerhouse Museum
Site:
Wish to see 2,000-year-old artefacts from Pompeii, the renowned city that was buried under volcanic ash? Visit the Australian National Maritime Museum this winter and see Escape from Pompeii: The Untold Story. You won't be let down.
After: Today — Aug. 30th
Time: 9.30am — 5.00pm
Where: Australian National Maritime Museum
Website:
The National 2017: New Australian Art is the very first variant of a three-part series happening between now and 2021. The exhibition, that can be hosted by three of Sydney's premier cultural institutions, features the most recent ideas and forms in modern Australian art.
After: Now — July 16th
Time: See website
Where: Art Gallery of NSW, Carriageworks, and the Museum of Contemporary Art
Site:
Fancy a tasty bite to eat or a drop of vino to heat you up this cold season? The Food and Wine Festival is the case for you personally. Head there on August 27th, and you will end up in an indulgent heaven of Italian wine, pizza, pasta, snacks, and more.
When: Aug. 27th
Time: 11.00am — 9.00pm
Where: The Cutaway, Barangaroo Reserve
Site:
This month, Carriageworks will sponsor the Night Market. The event, which features the theme 'Cooking with Fire', will dish up food that has been cooked with flames, coals, smoke, and char from a number of the nation's leading restaurants.
After: June 16th
Time: 5.00pm — 10.00pm
Where: Carriageworks
Site:
Escape the house this winter and into the Art Gallery of NSW. While there, Make Sure You check out O'Keefe, Preston, Cossington Smith: Making Modernism. The ground-breaking exhibition brings together and showcases around 90 works from iconic American artist, Georgia O'Keefe and pioneering Australian artists Margaret Preston and Grace Cossington Smith.
When: July 1st — Oct. 2nd
Time: See website
Where: Art Gallery of NSW
Website:
This season, Sydney's yearly BBR (Bleu Blanc Rouge) Festival will soon be renamed Bastille Festival. The event will take more than the iconic Circular Quay for an amazing party of French culture, food, wine, and artwork.
When: July 13th — July 16th
Time: See site
Where: Circular Quay
Site:
Want to challenge your mind this winter and expand your own understanding? Catch up with renowned primatologist Dr Jane Goodall on June 23rd as she discusses the topic "What separates us from other creatures?" .
When: June 23rd
Time: 7.00pm
Where: Hordern Pavilion
Website:
Your Wednesday nights do not let go to squander. Instead, spend them in the Art Gallery of NSW with Art After Hours. The evening event runs from 5.00pm until 10.00pm each Wednesday in June and features an excellent array of lectures, celebrity chats, guided tours, musical acts, workshops, and movies.
After: Wednesdays, June 7th — June 28th
Time: 5.00pm — 10. pm
Where: Art Gallery of NSW
Website:
Get fit and do good this August by registering for your own Sun-Herald City2Surf. The 46-year-old fun run, which supports multiple charities, features a 14km course, and it has become one of the most beloved and largest community events in the world.
When: Aug. 13th
Time: 7.50am
Where: Hyde Park to Bondi Beach
Site: www.city2surf.com.au
Price: $67